Goal 1: Space for nature is protected, restored, created & valued
Wildlife is in trouble – globally animal populations are roughly half the size they were 40 years ago, 56% of all UK species are in decline and precious habitats such as wildflower meadows have been nearly wiped out, with only 3% remaining of those we had in the 1930s. Evidence from the UK shows that while there have been some successes, such as the recovery of otters, peregrine falcons and some bat species, there continues to be a dramatic decline in biodiversity, the quality of habitats, the population and status of many species, and the overall 'health' of the natural environment.
"Over 40% of priority habitats and 30% of priority species were still declining in the most recent analysis. Eight priority species were lost entirely from the UK between 2002 and 2008." - Biodiversity 2020: A Strategy for England's Wildlife and Ecosystem Services, p.9
To reverse this decline, we need to think differently. Nationally, The Wildlife Trusts' collective response has been to enlarge the focus from individual sites and 'biodiversity hotspots' to the more comprehensive 'Living Landscapes' approach, which evidence shows is essential for nature's recovery.
The ambition is to create strong, resilient and ecologically diverse landscapes where people live their everyday lives. Our Living Landscape is the Nature Improvement Area, and this ambition will be delivered through its ecological strategy, built on evidence collected over the last 15 years. Informed by this strategy, we have a plan for Birmingham, Dudley, Sandwell, Walsall, and Wolverhampton to support a healthy population of people and wildlife.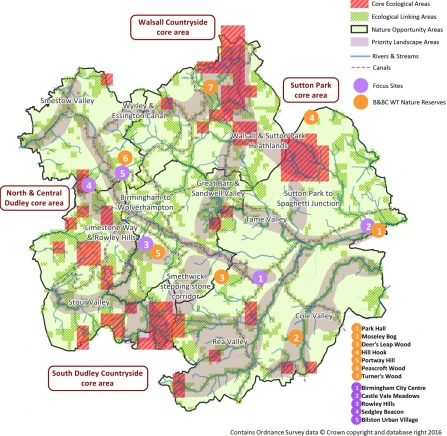 The map represents the Ecological Strategy for Birmingham and the Black Country and allocates all parts of the landscape to one of three broad categories:
The 'Core Ecological Areas' are the places that are richest in wildlife. As might be expected, these include the parts of our landscape least affected by urban development – such as Sutton Park and the countryside in Walsall and Dudley - but it also includes areas where wildlife has reclaimed sites that were once at the heart of industry.
Joining together the Core Areas and the wider landscape are 'Ecological Linking Areas'. These include the majority of our remaining natural and semi-natural open spaces where many of the more frequently encountered species and habitats exist - often very close to people. Much of this part of the network is concentrated around key wildlife corridors including the extensive system of rivers, streams and canals.
Outside of the Core areas and Ecological Linking Areas lie the 'Ecological Opportunity Areas'. These are the most intensively used parts of the landscape where the green space is dominated by formal parks, public open spaces, gardens, road verges and productive farmland. Using the mapping to prioritise action, for each broad category a priority for targeting biodiversity action has been identified:
1. Protect Core Ecological Areas through engagement with the planning system, advocacy, supporting land-owners to manage land sympathetically, and encouraging sustainable land-use.
2. Enhance Ecological Linking Areas by restoring habitats and improving existing sites.
3. Create new sites in Ecological Opportunity Areas that together form networks of sites that allow wildlife to move through the most developed parts of the conurbation.
We have five aims for restoring nature across the entire ecological network. They are that:
Spaces for wildlife will be protected and managed to high standards. We will:

Manage our own sites as exemplars for nature conservation: our own nature reserves will be managed to a high standard for biodiversity, demonstrating the potential of urban sites. These sites will set quality standards for public access and engagement.

Work in partnership: maintaining current, and develop new, relationships, linking with the priorities and initiatives of others and working in partnership to deliver our vision of a Living Landscape.

Target where we work: continuing to prioritise activity and focus our efforts where they will have most impact. Projects will be selected for their contribution to the ecological network, current or potential biodiversity value, threats they face and benefit to people. Existing priority landscapes and sites are shown on the Ecological Strategy map.

Credit @Margaret Holland
More natural spaces will be created. We will:

Continue to work with landowners, community groups and businesses to identify opportunities and create natural spaces for people and wildlife. We will support our partners, developing their skills and knowledge with advice and training, to manage these spaces to high standards.

Influence planning decisions and new developments to secure the creation of natural spaces.

Credit: Margaret Holland
We will connect all wild spaces with wildlife corridors:

by creating a Living Landscape through enhancing wildlife corridors and creating new 'stepping stone' corridors - joining up new and existing wildlife sites throughout our area.

Credit: Emily Marshall
We will take measures to reverse species decline:

by creating a resilient ecological network. In Birmingham and the Black Country, there are 131 threatened species, including great crested newt, white-clawed crayfish, black redstart and water vole. Our habitat protection, enhancement and creation work is vital to the survival of these priority species.

Credit: Tom Marshall
Science and evidence will underpin all our work:

a good evidence base is an essential element of delivering the strategy effectively. It helps us make sure we are doing the right thing in the right place, using our resources effectively and focusing on action that will have the most impact.

Credit: @WTBBC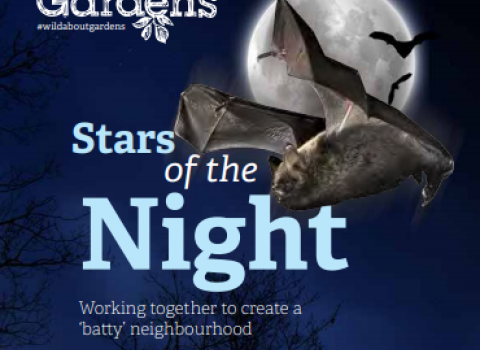 Sign up to our E-Bulletin this Autumn & download your FREE Stars of the Night, Bat Pack!