Help us to document the wildlife of Birmingham and the Black Country in a global challenge to see which city is the wildest!
This year's nature-spotting challenge will take place from the 30th April to 3rd May.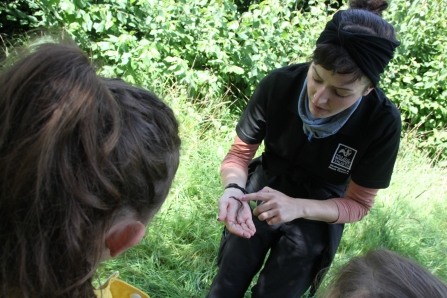 What is City Nature Challenge
The City Nature Challenge is an annual competition between cities all over the world to see how many wild species their citizens can spot over the space of four days. 
The City Nature Challenge began in 2016 as a competition between San Francisco Bay and Los Angeles County - by 2018 the CNC had gone international!
2021 looks set to be the biggest year ever with over 400 cities signed up to take part in the challenge including 14 city areas from the UK!  We'll be comparing the wildlife of Birmingham and the Black Country with worldwide cities from Cape Town to Canberra, Barcelona to Buenos Aires. We'll also be comparing our wildlife with that of our namesake Birmingham, Alabama!
Last year 'Birmingham and the Black Country' took part in the challenge for the first time, and over the course of the four days we managed to record over 16,000 records of 1,300 different species - with highlights including weasels, buzzards, green-winged orchids and some insect species which had never been recorded here before!  You can see what we spotted last year here.
This result meant that we managed to spot more wildlife in Birmingham and the Black Country than any other European city!
As well as being a fun activity that gets us to notice and learn more about our urban wildlife, the City Nature Challenge generates useful species information that helps organisations, such as EcoRecord and the Wildlife Trust for Birmingham and the Black Country, to protect wildlife and to target their nature conservation activities.  The species information that we gather can also help to tell us about the impact of climate change on our area, including highlighting changes in the distribution and range of different species.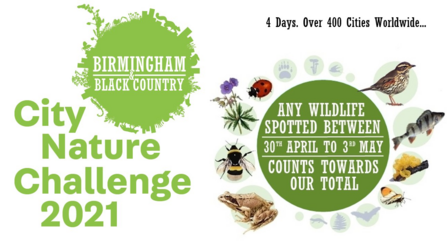 HOW CAN I TAKE PART?
Any records of wildlife spotted in Birmingham and the Black Country from Friday 30th April to Monday 3rd May will help towards our total and move us up the live global leaderboard.
The easiest way to make your records count is to use the free iNaturalist app or website.  Simply take a photo of a wild plant or animal and the app's inbuilt software will help you to identify it! 
Here's some ideas for ways for you to take part in the City Nature Challenge:
Undertake a Wildlife Mission (30th April to 3rd May)
Help us to identify what's been seen (30th April to 9th May)
Another way you might like to take part is to help others to identify what they've seen.  Once a photo is uploaded onto iNaturalst anyone can then help to identify what it is.  This can be a great way of helping to develop yoiur own identification skills, but remember, it's not always possible to identify a species from a photo!  The more photos we have confidently identifed to species, the better!
We have until 9th May to upload our records to iNaturalist and to help identify them. 
As records are uploaded they will appear on our iNaturalist project page.
COVID-19 Guidance
You might want to take part in the City Nature Challenge either on your own or with others. We don't yet know exactly what the government guidance will be on outdoor activity by the end of April but we would ask that you follow whatever the current guidance is at that point.
WHEN ARE THE RESULTS ANNOUNCED?
The results are announced on 10th May.
The records are collated in the iNaturalist Recording System and the leaderboard is updated in real time!
Cities are ranked according to:
• Number of Observations
• Number of Species
• Number of Observers
The City Nature Challenge is organised globally by:

Birmingham & the Black Country's 2020 City Nature Challenge entry is led by:

If you have any questions about the Birmingham and Black Country City Nature Challenge please drop us an email: enquiries@ecorecord.org.uk
We'll be sending out some more updates on the City Nature Challenge nearer to the time.  If you would like to receive these updates, register via the link below.