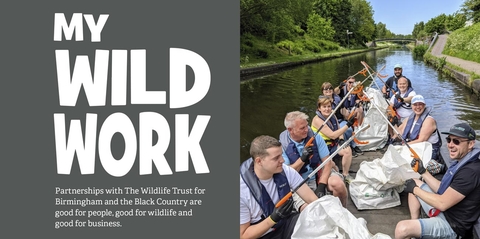 Thank you to all our partners who support our work through funding, donations and business partnerships - we couldn't do what we do without you.
If you would like to find out more about partnering with us please contact Emma Thompson, Head of Fundraising and Communications, on 07718 109 570.
Wild Work
Partnerships with the Wildlife Trust for Birmingham and the Black Country are good for people, good for business and good for wildlife!
The business sector has a vital role to play in sustaining the wild places within Birmingham and the Black Country. Partnering with us helps us to achieve our objectives and improve the quality of the local environment in which your employees and customers live and work.
Partnership Benefits
Show your customers that you take Corporate Social Responsibility seriously
Demonstrate your commitment to healthy, happy employees
Take pride in the immediate impact your support has on improving local spaces for nature
Partnership opportunities
Business membership from £500 per year
Donate a percentage of your sales via the Work for Good Platform.
Book a Wild Work Day for your team to get hands on with our conservation activities
Arrange a Wild Wellbeing Day for a holistic day connecting, learning and giving
Sponsor a project, event or an edition of our member magazine
Fundraise for us through your team and customers.
Book a Lunch and Learn session or virtual workshop
Download our brochure to find out more
For a discussion about how your business can partner with us contact Emma Thompson, Head of Fundraising and Communications on 07718109570 or email emma.t@bbcwildlife.org.uk