Deer's Leap Wood is a wonderful mix of informal woodland, pond, boundary brook and meadow areas which have been formally designated as a Site of Local Importance for Nature Conservation (SLINC). The woodland element has also been safeguarded by being included within a group Tree Preservation Order (TPO).
This small urban site contains a wonderful mix of informal woodland, ponds, boundary brook and meadow areas, and is a Site of Local Importance for Nature Conservation (SLINC).  The Wood can be traced back to Medieval times when both it and the surrounding area formed part of the large Rotton Park estate, characterised by woods and meadows. Shireland Brook, which flows along the site's northern boundary, historically formed the county boundary between Staffordshire and Warwickshire. More recently the site became synonymous with the world famous Mitchells & Butlers (M & B) Brewery which adopted the 'Leaping Deer' as its company motif for over 100 years.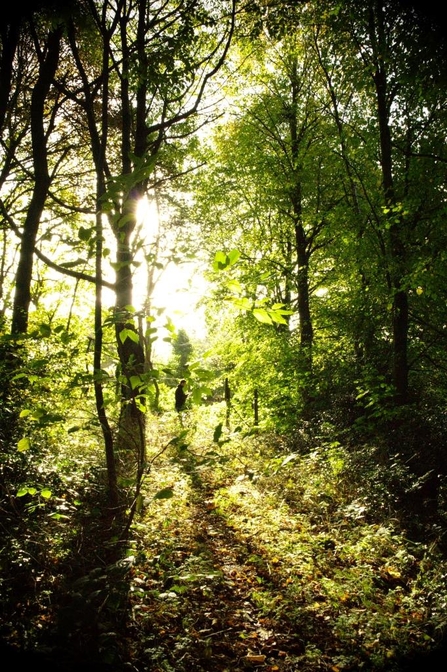 The wooded areas are an interesting mix of native trees and shrubs (including birch, ash, cherry, oak, field maple, wych elm, hazel and alder), as well as having distinct blocks which are dominated by poplars, willows, or sycamore.  These habitats are popular with a range of bird species but particularly greater spotted woodpeckers.  A variety of fungi thrive on the decaying timber and damp woodland floor. The large pond is home to smooth newts, and is frequented by moorhens, mallards, and herons. Around the banks you'll see meadowsweet, water mint, flag iris, and reedmace. The recently established upper meadow is developing into a rich mix of floral species that buzzes with honey bees, grasshoppers, dragonflies, and other insects.
Deer's Leap Wood is located 2.5 miles west of Birmingham City Centre and covers approximately 1.9 hectares (4.5 acres) on the boundary between the Edgbaston, Harborne and Soho Wards. To the north is Cape Hill in Sandwell.
Love Deer's Leap Wood? Do you want this urban oasis to be preserved for future generations to enjoy? Be a Wildlife Hero and make a DONATION TODAY!
To donate £2 text DEER to 70085, to donate £5 text DEER 5 to 70085 and to donate £10 text DEER 10 to 70085.
Texts cost your donation amount plus one standard rate message and you'll be opting in to hear more about our work and fundraising via telephone and SMS. If you'd like to give a donation but do not wish to receive marketing communications, text DEERNOINFO, DEERNOINFO 5 or DEERNOINFO 10 to 70085.