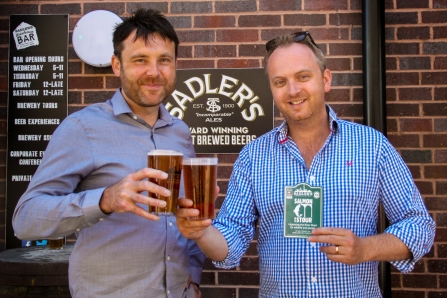 Salmon in the Stour is a project improving access for people and enhancing the habitats of the Stour, so wildlife like otters, kingfishers and salmon can thrive.
The river is a vital green and blue corridor bringing wildlife to the surrounding countryside and towns as it flows through the Black Country, Staffordshire and Worcestershire. Once an important waterway for our industrial heritage, parts of the Stour have become neglected and polluted.
Unfortunately the Stour also suffers from numerous problems including poor habitat and water quality, litter, invasive species and poor access. The river channel has been heavily modified in places, making it visually unattractive and unsuitable for wildlife; whilst a number of manmade barriers prevent many fish species, especially those that migrate over long distances such as salmon, from finding suitable habitat to colonise and breed.
Chris Sadler, Managing Director of Sadler's Brewery said
'Our brewery is right on the River Stour and from farmers growing hops to customers enjoying a beer in the sunshine, Sadler's, along with many other local businesses, rely on it. Salmon in the Stour is a great project and we're delighted to be part of it.'
Simon Atkinson, Senior Conservation Manager for The Wildlife Trust for Birmingham and the Black Country said:
'It's great to have Sadler's Brewery on board with Salmon in the Stour. We need local communities involved to make the project a success. Now as well as volunteering to take part in surveys, monitoring and habitat improvement – they can also enjoy a cold beer or make a donation to support a great cause and help improve their local area.' 
Dan Johnson, FBG Programme Manager at the Environment Agency said: "The Salmon in the Stour ale is a great opportunity to raise awareness of the problems facing the River Stour catchment and for interested parties to contribute to improvements for local people and wildlife."
Salmon in the Stour is a partnership between The Wildlife Trust for Birmingham and the Black Country, the Environment Agency, Worcestershire Wildlife Trust and the Severn Rivers Trust and covers the whole of the River Stour catchment, which includes the Stour itself as well as the many smaller watercourses that join it along its route.
For more information please see Salmon in the Stour
For more about Sadlers Ales click here