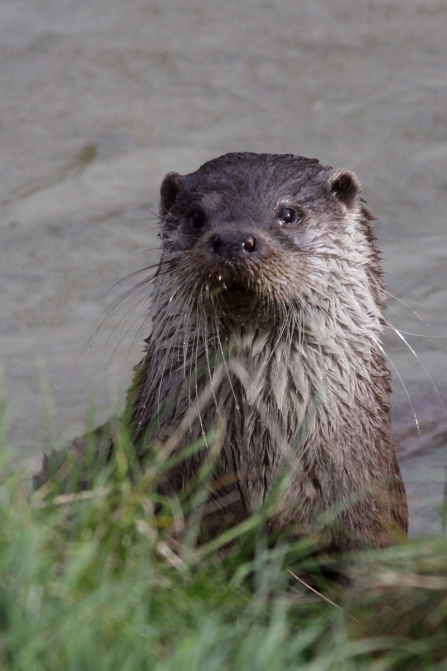 Biodiversity and Planning Officer Hannah Lewis recently discovered signs of otter where a housing development had deculverted a 500m section of the river, bringing it back above ground where it had previously been diverted below. It is the first time signs of otter have been spotted in this location.
Now the Trust want to survey the river to see where otter populations are thriving to get an idea of which parts of the Stour are in good health – and which are not.
The project is part of Salmon in the Stour, a partnership between the Environment Agency, The Wildlife Trust for Birmingham and the Black Country, Worcestershire Wildlife Trust and the Severn Rivers Trust) and covers the whole of the River Stour catchment, which includes the Stour itself as well as the many smaller watercourses that join it along its route.
Many parts of the river have been diverted underground, others are heavily affected by industrial pollution and fly tipping creating barriers for wildlife. Now the partnership are working to identify and remove barriers so all kinds of wildlife, including salmon and otter, can thrive.
If you are a wildlife enthusiast you can volunteer to become an otter spotter across various locations on the River Stour by calling Hannah on 0121 523 0094. All training will be provided and surveys will be done as part of a group.
Once an important industrial watercourse, today the Stour acts as a vital green and blue corridor, bringing wildlife, including otters and kingfishers, right to the heart of Stourbridge and the surrounding towns and villages.
Hannah Lewis, Biodiversity and Planning Officer, the Wildlife Trust for Birmingham and the Black Country said:
'This is an otterly awesome otter-tunity to find out more about these fascinating mammals. Where there is evidence of otter populations we will know that the Stour is in good health, conversely absence of evidence will help us plan improvement works. A healthy river is important for wildlife, but for us too. Clean rivers mean clean water, clean rain and fewer pollutants in our food chain.'
Provisional otter survey dates - Nov 30th 2017, Dec 14th 2017, Jan 11th 2018, Feb 15th 2018