Are you ready for a GREAT Bog Adventure?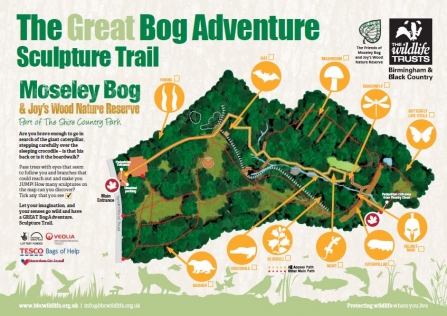 Are you brave enough to go in search of the giant caterpillar, stepping carefully over the sleeping crocodile – is that his back or is it the boardwalk? Pass trees with eyes that seem to follow you and branches that could reach out and make you JUMP! What kind of creature could be making those air bubbles in the gloopy green pond? How many sculptures on the map can you find?
How many birds can you spot? Woodpeckers, kestrels, buzzards, goldcrests, nuthatches, tree-creepers, tits, robins and finches are all around. Look out for signs of badgers, foxes, rats, rabbits and voles. Maybe you prefer minibeasts - can you find butterflies, caterpillars, bees, ladybirds, grasshoppers and spiders?
Can you tell the difference between fungi like scarlet elf caps, earth balls, fried egg fungi and King Alfred's cakes? Can you identify wild flowers like crested dogs tail, wild orchids, yellow rattle, primroses, hawkbit…
Be transported back in time, discover the Bronze Age burnt mounds, old clay pits, the Victorian dam for Sarehole Mill pond, the foundations of glass-houses where the Victorians grew their vegetables. Find out who Joy was and why the wood was named after her.
Are you a fan of Tolkien? How was he inspired here? What adventures can you conjure up in your minds eye?
As you explore Moseley Bog and Joy's Wood use all of your senses to ensure that nothing goes unnoticed. Be silent for 10 steps to find out what you can hear, close your eyes and feel the different textures of tree bark with your hands or face, identify places where the breeze reaches you, or feel how different the ground is as you walk around, smell the leaves, grasses and flowers.
Let your imagination, and your senses, go wild and have a GREAT Bog Adventure. 
Download & print the map, tick off the sculptures as you discover them