FREE School Offers!
Our mission is to work with schools and families to make sure the next generation grows up connected to the natural world. We have 3 FREE school offers to achieve this alongside the paid programmes and support we offer.
A FREE Assembly on a species or nature topic to complement work you are already doing
A FREE school pack for 30DaysWild - a national campaign where thousands of people commit to a Random Act of Nature every day throughout June. With ideas, stickers, seeds and planners this is a great, simple, class activity.
A FREE Young People's Community Action Pack to encourage students to be local leaders and wildlife champions. From organising a litter pick to saving bees and reducing plastic, our simple pack encourages young people to be the change they want to see in their community.
Call 0121 523 0094 or email info@bbcwildlife.org.uk to discuss or book.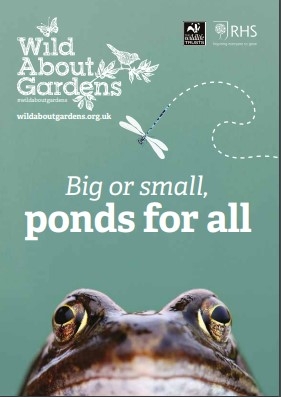 Sign up to our E-Bulletin this Spring and download your FREE Wild About Gardens, Big or Small, Ponds for ALL Guide, in conjunction with The Royal Horticulture Society and the Wildlife Trusts!
Services for Schools and Young People;