Damsels & Dragons is our campaign to encourage people to report sightings of nine dragonfly species across Birmingham & the Black Country.
Summer is a great time to go outside and try to spot these impressive creatures. The information collected as part of this survey will help to improve our knowledge about what species can be found where in our area so we'd love to hear about any sightings of dragonflies and damselflies you encounter this summer. Please take a picture and send it to us!
There are about 40 species of dragonfly breeding in the UK, of which 27 have been recorded in Birmingham and the Black Country. Let us know if you spot any!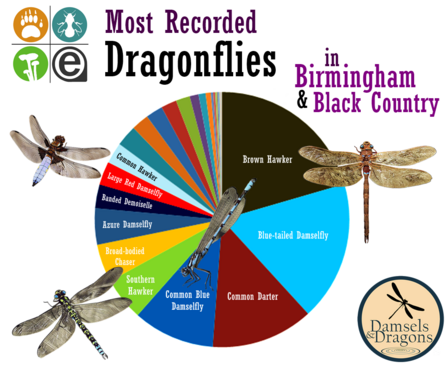 According to our database the most commonly-recorded dragonfly species in our area is the Brown Hawker (Aeshna grandis) followed by Blue-tailed Damselfly and Common Darter.
Where and When to look?
Dragonflies occupy a range of water habitats including canals, ponds, lakes, rivers, streams and ditches as well as other marshy areas. 
The best places to look are on and around waterbodies, along woodland rides and over meadows. They will occasionally perch on vegetation between hunting flights and it can possible to get close to them if you move slowly.
The best time to see them is between mid-morning to mid-afternoon on fair days between May and October. 
If you're after a good book to help you identify them you may like to try Britain's Dragonflies Wild Guide by Dave Smallshire & Andy Swash (2014).