30 % decline in hedgehogs
97 % loss of wildflower meadows since 1930s
131 local species under threat
22 types of local habitats under threat
We have been protecting local wildlife for 40 years
Wildlife is in trouble. 41% of UK species are in decline and we are in the midst of the largest extinction event on Earth since the dinosaurs. In the UK we have lost 97% of the wildflower meadows we had in the 1930s and hedgehog numbers have fallen from 30 million in 1950 to just 1 million now.
90% of plant species need animal pollination and we rely on bees for every third mouthful of food we eat.
For 40 years The Wildlife Trust for Birmingham and the Black Country has been protecting wildlife, restoring wild spaces and inspiring people for natures recovery across Birmingham, Dudley, Sandwell, Walsall and Wolverhampton.
We look after 7 nature reserves and 2 Environmental Education Centres where each year thousands of local children enjoy a wild lesson or club. Just last year we improved 63 wild spaces, that's over 1,500 hectares of habitat for wildlife to thrive.
The next 40 years are going to be tough. The UK today is a human-dominated landscape. Most original habitats have gone, and natural ecosystems are fragmented. Woods, meadows, ponds and other places with lots of wild plants and animals are getting smaller, fewer, more polluted, and more cut-off from each other. Most of our plants and animals are declining. One in ten face extinction.
With unparalled population growth putting pressure on land and natural resources along with our changing climate, it is more important than ever that together, we stand up for wildlife and our precious wild spaces.
Help us raise £40k so we can prepare for the next 40 years of standing up for local wildlife. Together, we CAN reverse local wildlife decline.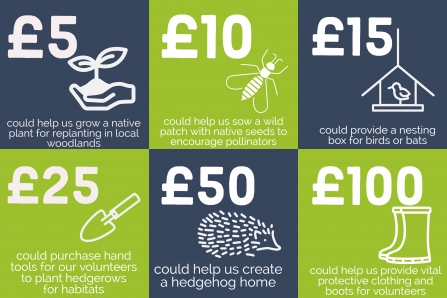 Successes such as creating acres of wildflower meadow for pollinators to thrive and clearing the River Stour so salmon can migrate pale into insignificance in the face of the challenges which lie ahead. The future of our local wildlife is dependent upon the abundance of many smaller creatures, often less visible, species that each play vital roles in sustaining healthy ecosystems. Only by continuing to care for and enhancing our green spaces with these unsung heroes in mind can we ensure the survival of hedgehogs, kestrels, otters and kingfishers.
The financial cost of our work is high. Our reserve and volunteer teams need the equipment and resources to undertake extensive year-round work programmes across the conurbation.
We need your help to continue this crucial work.
Please support our 40-Year Appeal today!