The 'Growing Local Flora' project is one of our key ongoing projects that feeds into all of our woodland enhancement work.
Beginning in 2013, the project aims to produce a large amount of local provenance woodland plants and supply them free of charge to partners of the Birmingham and Black Country Nature Improvement Area (NIA) who are who are undertaking Woodland Delivery Theme projects.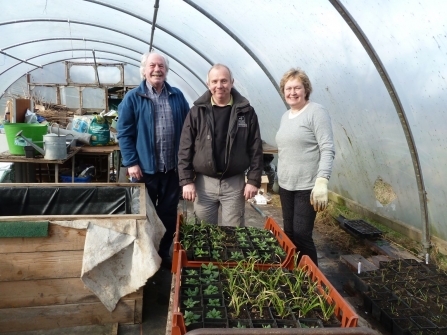 In preparation for the project, during the growing season of 2012, the Wildlife Trust collected a large number of seeds to be used to deliver NIA projects.
However during this process it became clear that there were a number of species, characteristic of local native woodland, for which it was not possible to collect large amounts of seed.
In order to complement the thinning and seeding of woodlands carried out across plantations in the region, these species are grown at the Trust's EcoPark education centre in Small Heath, Birmingham. Here the Trust produce stock plants from which seeds & propagules are collected to produce additional plants.
The project is run by Paul Stephenson, the Senior Ecologist at the Wildlife Trust, who has over three decades experience of working and volunteering in the sector.
We have regular volunteers, but new volunteers are also welcome.  Several primary schools have also participated in the projects - taking cuttings and planting up plants.
The project has been so successful it has been extended to our Centre of the Earth Environment Centre where volunteers have cleared an old canal wharf and built raised beds where new plants are growing for rewilding