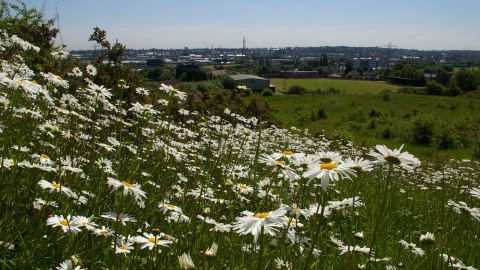 Portway Hill, part of the Rowley Hills
Colonies of rare butterflies and nesting birds make this site great for wildlife enthusiasts - but it is also internationally famous for the unusual onion skin weathering on basalt which was used for kerbstones throughout Birmingham and the Black Country
Know before you go
Entry fee
No entry fee though there may be a charge for events & activities
Parking information
Roadside parking, this is a residential area so please park considerately
Bicycle parking
Fixed rails but no formal racks
Walking trails
There are several foot paths across the hills and a formal path across the site
Access
Unfortunately this site is not wheelchair friendly. Steep escarpments. suitable footwear for walking required.
When to visit
Opening times
Open at any time
Best time to visit
All year round
About the reserve
Portway Hill is part of the Rowley Hills, a few acres of grassland high on the Hills looking out over Sandwell, Birmingham and parts of Dudley, but home to an astounding wealth of grassland wildflowers and butterflies.  
Backed by spectacular rock exposures of the Rowley Rag, carpeted in wildflowers and with butterflies filling the air, there's no finer place to appreciate the living landscape of wildlife sites in the wider cityscape. The reserve boasts scarce plants, like the exotic Bee Orchid and the unusual hare's foot clover, and many important butterfly species, including one of the few colonies of Marbled White Butterflies in Birmingham and the Black Country.
The site is excellent for birds with birds of prey such as peregrines and kestrels as well birds which enjoy the open grassland and those, like warblers, which may be found in the scrub at the edges of the site. 
Environmental designation
Site of Nature Conservation Importance (SNCI)