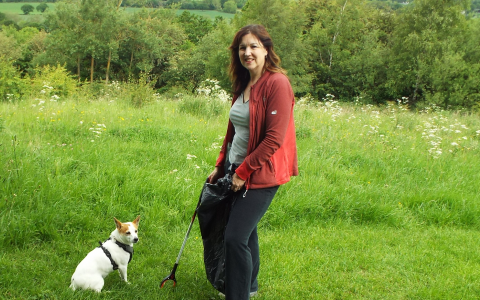 My quiet life
Sutton in Ashfield, Nottingham
I was lucky enough to be born to parents who naturally loved wildlife. We didn't have a car when younger, so we walked (a lot). We also had an aviary at home and people would bring injured birds to us to help. It was the 70's and a different time!
As I've grown older I've seen the effects of what we as humans have done, and continue to do to harm our beautiful planet, thankfully I've also seen better things where we have tried to correct our errors and help nature. I've been a member of the Wildlife Trust for many years now as well as other conservation charities and support them with donations. I also did a one-day course for Derbyshire Wildlife Trust to be a water vole monitor, which I did for several years until I moved from the area.  
Myself and my husband are very lucky to live backing onto fields and we also have a stream at the bottom of our garden. We have always fed the birds, and are lucky to have a huge variety come to visit us. As well as the usual finches/linnets/tits, we also have nuthatches and woodpeckers. We've even had a male mandarin duck and an egret at the bottom of the garden, all in quite a built up area near Sutton-in-Ashfield. In addition, we also have badgers and foxes visit - nightly! Rightly or wrongly I feed both. We have wildlife cameras and are blessed each evening by visits from them both and amazingly recently my husband sent me footage of a 'new animal' - deer, two of them! We used to have hedgehogs but we have had no visits from them either last year or this.
We are lucky enough as well to have a small flat in Cressbrook in the Peak District, and we spend much of our time there, both being keen walkers and both loving wildlife.
One thing that I try and do as regularly as I can, is litter picks. I litter pick both individually, and also I organise litter picks where I live. I am lucky enough to live near both Brierley Country Park, and Silverhill Country Park and I go to both regularly when I walk my little dog Meggie. When I take her for a walk, for me it's a no-brainer to pick up litter.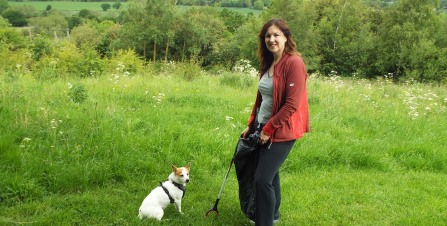 What's your wild life? Tell us why wildlife or a special wild place matters to you or share your story in social media using #MyWildLife.
If you'd like to share your story please get in touch with us at campaigns@wildlifetrusts.org.