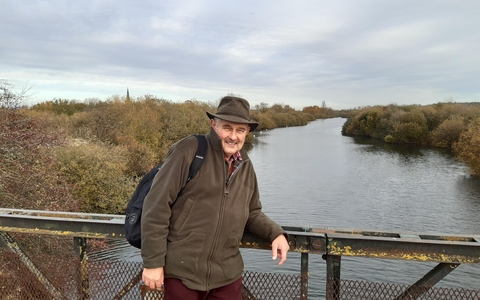 I was appointed to the Nottinghamshire Wildlife Trust on 20th July 2020, as Head of Nature Recovery South, after being interviewed on two Zoom meetings, a very odd experience in these strange times. My appointment was made by a team of very welcoming and supportive people, who have all become the colleagues I have the great privilege of working alongside in the delivery and challenges of Nature Recovery in Nottinghamshire.

My early years have influenced my lifetime love for nature, living in the countryside of North Fife, Scotland. It was not difficult to fall over nature; it came right up to our door step. I walked to and from school every day "a mile each way". What fun I had watching Bull Finches, Skylarks, Curlew and Brown Hare, which usually resulted with me being late for school and getting into trouble with my teacher, (at that time in my mind nature had always had so much more to offer throughout the seasons, than I thought my teacher had, which probably was not the case!).

I have always been passionate about conservation since the age of seven when I questioned my primary school teacher about why the oak tree in our play park was being cut down; I was told it was to allow room to build new houses. Since then I have never stopped asking why we allow our planet's ecosystem to be destroyed in the name of progress. At prize giving that year I received a copy of Wayside & Woodland Trees by Herbert Edlin which I still use as a reference book. My observations then, have laid down the foundations for my lifetime career in land management, consultancy, forestry and conservation within the commercial, Government and Charity sectors.

Since my early years my passion and drive for nature has never left me, unfortunately many of the rich plethora of species I experienced as a boy, have sadly been lost!
That is why I am thrilled to have been appointed Head of Nature Recovery South here at Nottinghamshire Wildlife Trust.