Fancy a walk on the wild side? 
Put your best foot forward and register to take part in our Wild Walk Week. This enjoyable fundraising event will take place between Saturday 24th October and Saturday 31st October so remember to mark your calendars.  
Polish your boots, pack a flask of hot soup and set off on a satisfying walk. Relax, breathe and see how many awe-inspiring sights you can spot during this Autumn week. They'll be puddles to splash in, wildlife to befriend, open green spaces to feel free in and forgotten beauty spots to rediscover. 
Wild Walk Week is open to individuals, families and couples who love to walk and fundraise for Birmingham and the Black Country Wildlife Trust. There are lots of different ways to raise money. 
Whether you make it a puddle-splashing welly walk, a wildlife watching walk or an orienteering walk, every pound you raise makes a difference. And as it's our 40th anniversary can you raise £40 in sponsorship, explore 40 new sites in a week, spot 40 species or take on a 40km in a day challenge?
Sign up to Wild Walk Week 2020 and we'll post you a guide to over 40 wild spaces to explore across Birmingham and the Black Country and email you with ideas and inspiration
Take a look at some suggested routes below: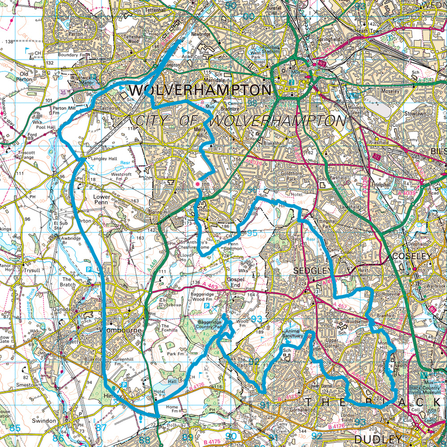 Black Country 40km circular route
As walked by Julian and Deb Cartwright for their 40km walk challenge in August which raised £560!  The route takes in Wren's Nest National Nature Reserve, Cotwall End Local Nature Reserve and Sedgley Beacon in the Black Country and Baggeridge Country Park and Himley Plantation in neighbouring Staffordshire. Visit Julian and Deb's blog for more of their walking adventures.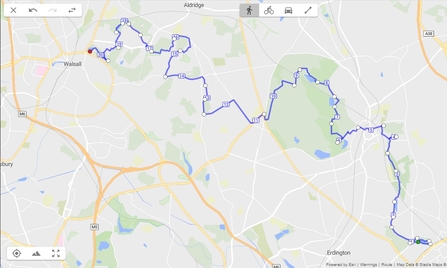 Birmingham 40km linear route
As walked by James Benwell, Natural Prospects Trainee for the 40-Day Challenge raising nearly £80.  The route explores: Plantsbrook Local Nature Reserve, Pype Hayes Park, New Hall Valley County Park, Rectory Park, Sutton Park, Barr Beacon, Cuckoos Nook and the Dingle, Hayhead Wood, Park Lime Pits and Walsall Arboretum.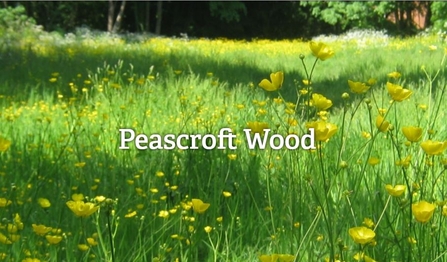 Walk down Central Avenue, turn left onto Cumberland Avenue then right onto Langdale Drive leading to Moseley Road Open Space.  Leave via Proud's Lane, taking the alley leading to Lawnside Green.  From here cross Stowheath Lane to access East Park.
Flora of Birmingham and the Black Country
Thank you to Flora of Birmingham and the Black Country authors Mike Poulton and Ian Trueman for permission to share this link to 11 walking routes in their book written 7 years ago.  Download the routes here
Just giving
Set up your own fundraising event to encourage friends and family to sponsor you
Fundraising guide
Download our fundraising guide for more ideas and information on how to pay in your donations
For more information on how to support us email fundraising@bbcwildlife.org.uk