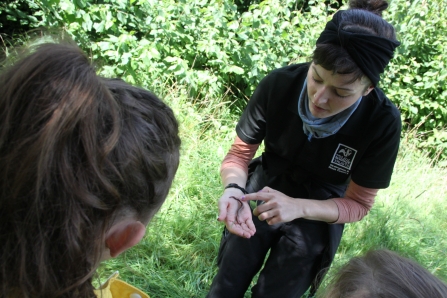 From introducing toddlers to mini beasts and wild play to infants learning about habitats through pond dipping and mini beast hunts, helping juniors understand rivers and assess risk through forest school to providing volunteer placements for secondary school Duke of Edinburgh placements and now, training school leavers from ethnic minorities and deprived backgrounds to be the next generation of conservationists & teaching teachers to deliver outdoor learning confidently - we are rightly proud of the outdoor learning experiences we provide.
Whether you want to set up a Wildlife Watch club, a Forest School, create a wild garden on site or visit one of our purpose built environment education centres in Birmingham, EcoPark and Centre of the Earth, for a curriculum linked outdoor learning session we have a package for you. 
Why be a Wild School?
We work with schools, community groups and families to make sure the next generation grows up connected to the natural world, so they understand the link between a healthy planet, healthy wildlife and healthy people and their role in protecting our environment - and we do it in a way that has proven benefits for both wildlife and children.
The benefits to schools:
School children engaged in learning in natural environments have been found to have higher levels of achievement in reading, maths, science and social studies and a greater motivation for studying
School pupils participating in adventure learning have been found to make 3 additional months of progress in terms of learning outcomes in comparison to their peers
School based learning in a natural environment was associated with some improvement in attendance rates
Greener school environments, such as the presence of natural features in the playground, have been linked with better motor skills, psychological restoration and rates of physical activity
The specific use of woods or forests as settings was associated with the acquisition of academic, social & personal skills, increases in confidence & self esteem and improvements in physical skills
Natural England Note EIN017 July 2016
The benefits to wildlife:
Wildlife is in trouble;
56% of all UK species are in decline*
Over 40% of priority habitats and 30% of priority species were still declining in the most recent analysis†
8 priority species were lost entirely from the UK between 2002 & 2008†
Habitats like wildflower meadows have been nearly wiped out, with just 3% remaining of those we had in the 1970s*
Globally animal populations are roughly half the size they were 40 years ago*
A recent study found that German nature reserves have seen a 75% reduction in flying insects over the last 27 years. The researchers involved made stark warnings that this indicated a wider collapse of the general insect population that would bring about an ecological catastrophe if left unchecked.
* State of Nature Report 2016
† Biodiversity 2020: A Strategy for England's Wildlife and Ecosystem Services
70 schools work with us each year
2 specialist environment education centres
8,000 students learn at our outdoor classroom each year
Download our My Wild School Brochure!
Browse our services and offers:
Services for Schools and Young People;