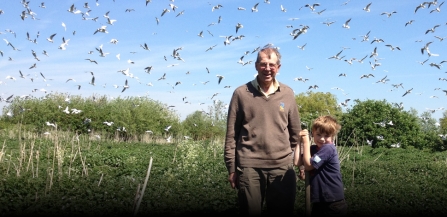 Vine House Farm Bird Foods has been working with The Wildlife Trusts since 2007 and have donated over £1.5 million to the Wildlife Trusts, including over £24,000 for The Wildlife Trust for Birmingham and the Black Country.
To find out more about Vine House Farm and to buy food direct from their conservation award-winning farm visit the Vine House Farm website.
Vine House Farm Bird Foods donate £10 for each new customer and 4% of every sale - so when you shop with Vine House Farm you are helping local wildlife!  
What makes this partnership so dynamic is that the company's founder and owner, Nicholas Watts, is very much driven by a philosophy of nature conservation and method of wildlife-friendly farming. Nicholas Watts MBE, said: "Farming this way is a way of life for us and it brings about great pleasure to see wildlife thriving. I have always enjoyed feeding birds and now I am feeding more than I could ever have imagined with the help of our customers!"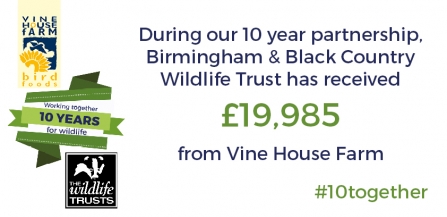 Fourth-generation farmer Nicholas has been working the land at Vine House Farm in Deeping St Nicholas, Lincolnshire, since he was a boy. His bird watching hobby became part of his work in 1992, leading to an MBE for his wildlife conservation work and wildlifefriendly farm management, and many other awards. Over the last 20 years, thanks to wildlife-friendly measures put in place at the farm, barn owl and whitethroat numbers have quadrupled, and tree sparrow and lapwing numbers have increased ten-fold.
Vine House Farm is one of the UK's most successful wild bird food businesses. In addition to sunflowers, Vine House Farm grows 240 acres of red millet, white millet, naked oats, oil seed rape and canary seed, all of which are delivered directly to customers across UK, through their mail order business, from the family-run farm. Nicholas' daughter Lucy and son-in-law Robert now manage the business and 2,500 acre farm, which also grows potatoes and sugar beet.
The partnership agreement we have with them means that each sale made to someone living in this area generates more money for us. If you are already a member, you will have received a copy of their catalogue to browse through, but you can also go onto their website to buy bird seed and many other products.