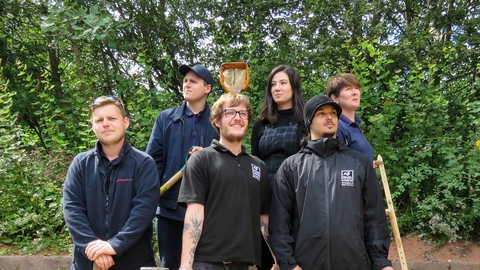 Natural Prospects Trainee Taster Day - Moseley Bog
Location:
Moseley Bog & Joy's Wood,
Yardley Wood Road,
Birmingham,
B13 9JX
Book
Find out more about the Natural Prospects traineeship whilst helping to carry out a practical conservation activity at Moseley Bog.
About the event
Thinking about taking your first step towards a career in wildlife conservation? Join us for a Natural Prospects Taster Day where you can learn all about our Natural Prospects traineeships, talk to previous trainees and have the chance to undertake a practical conservation activity.
In 2022, we'll be hiring eight new Natural Prospects trainees, helping to train the urban conservationists of the future. To find out more about the programme and how to apply, you can find all of the details here.
At our Moseley Bog Taster Day, you'll join our staff and current trainees to carry out some woodland management work. No previous experience necessary and all tools and equipment will be provided for you.
Please book your place below so that we can have enough equipment for everybody.
The day runs from 11.00am - 15.00pm. Please wear sturdy footwear, clothes appropriate for the weather and bring your own food and drink.
If you have any questions our queries, please do not hesitate to contact our current Natural Prospects Trainee, Alice-Mary Smith at Alice.MS@bbcwildlife.org.uk or on 07791 070929.
Booking